About Us
Our company, Shree Radhika Plast LLP, was established in 2021 to offer customers a wide range of products. We collaborate with the clients to develop new safe and environmentally friendly products. At our quality testing, R&D, and manufacturing departments, we rely on upgraded equipment and machines to assist our experienced staff.
Electrical switches and accessories, automotive electrical parts, electrical molding parts, home appliances, and crockery are some of the applications of our Polycarbonate Granules that are pure, effective, and high-quality. Therefore, a quality testing facility has been established on our premises. The quality inspectors check our Polycarbonate Granules range against predetermined parameters.
Our Vision
By delivering value to the customers and establishing relationships with them, we aim to be recognized as a market leader.
Our Core Beliefs
A uniform focus on the customer need
Disciplinary Business Conduct
Assurance of product safety and quality
Our Mission
SRPL mission is to be the leading provider of technology-enabled services and solutions globally.
Product Portfolio
Injection Molding or Extrusion Polycarbonate (Reprocessed/Compounded) of various shades and grades are part of our product portfolio.
Injection grade and sheet industries have access to our transparent and color materials with modifiers. The requests of our customers for color range from amber, orange, blue, black, wine to red.
Stabilizers, Brighteners, Lubricants, and Modifiers from world-renowned manufacturers are used to formulate our products.
Our procurement experts have sourced the materials from trusted vendors across the nation.
All our products are put through rigorous quality control checks to ensure they meet our high standards before delivering to our customers.
To ensure customer satisfaction, our products are offered at reasonable prices.
A message from our founder to the world
Since we implemented our corporate strategy, which includes the following elements, the SRPL has seen significant growth over the last few years.
From engineering to thermosets plastics, we are expanding our product range.
Covering national geographic
Keeping track of large-scale undertakings
Implementing strategies to reduce costs, increase pricing, and boost output
As we look ahead to our subsequent growth stage, we remain optimistic. We are focused on integrating and taking advantage of the available synergies. We aim to improve our quality assurance to help us perform better and grow the business more profitably in the years ahead.
Our Product Quality
Offering pure and high-quality Polycarbonate Granules is the goal of our company. As a result, we have built a well-equipped Quality Testing unit on-site to ensure only the highest quality products leave our doors.
What Are our standout points?
Our company modifies and uses Polycarbonate with US/German-based and world-renowned optical Brighteners, Heat Stabilizers, Impact Modifiers, Mold Release Agents, Anti-Oxidants, Flow Promoters, UV Stabilizers, Flame Retardants, Glass Fibers, and Lubricants to meet the needs of our customers and to ensure their satisfaction.
Extrusion Grade (MFI 6 TO 10) is one of our specialties
Apart from increased impact strength, we can supply our range with improved flexural or elongation strength to meet customer needs.
Customers can request First Use Reprocessed Material, which we can supply.
Our Infrastructure
Our company has built an infrastructure that spans a land of 20,000 square feet. The Manufacturing, R&D, Warehouse, Quality Testing and Packaging departments are established within the infrastructure. Our infrastructure is fully equipped with the necessary machines as per industry standards. Thanks to our cutting-edge facilities and infrastructure, we can meet large orders on time. We have also installed the following machines:
60 Ton Injection Molding Machine for ASTM Testing
72mm Twin Screw Extruders
Auto Loader for feeding
Our Quality Control Laboratory
Consistent High Quality is ensured by rigorous quality testing of all materials, intermediate products, and finished products. For sampling, we use a 60-ton injection molding machine. Because we want to ensure that our products meet international standards, we use an ASTM Standard Die. For determining elongation and tensile strength, we use advanced testing machines like:
Ash content Testing Machine
Color Cabinet
Izod Impact Testing Machine
MFI Machine
PLC based Glow Wire Testing Machine
PLC based Needle Flame Testing Machine
Specific Gravity Testing Equipment
Universal Testing Machine (UTM)
Our Warehousing and Packaging
We have constructed a large warehouse to house all our Polycarbonate Granules. Various sub-departments have been created to accommodate different compositions in our warehousing and packaging unit to ensure easy retrieval access and timely delivery. Our warehouse features include:
Capacious
Connected to stations, roads, and ports
Fire safety systems
Polycarbonate Granules are protected from water, moisture, and other atmospheric conditions by a controlled temperature.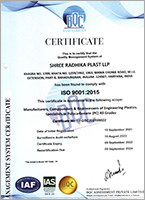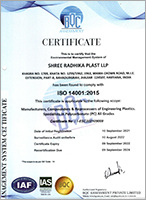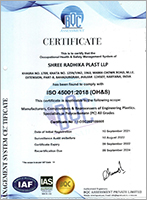 Our Accreditations
Read More